I am linking up today with
Finding Hope
for: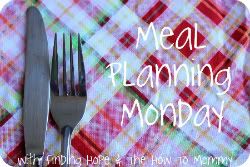 We were on Spring Break last week and we did an absolute horrible job on the eating right part! Spring break is like a vacation so who wants to cook on their vacation haha!!?
Well, this week we are back to our norm (for about 5 weeks and then we have 10 weeks off!! Can you tell I am excited!!), so I thought I better plan our meals because we both really want to be eating a lot better. I would really like to lose 5ish more pounds and I HAVE to get back to my work out routine blah! So, anyways here is our menu for this week!
Sunday: Grilled Chicken, Baked Potatoes, grilled cabbage and onions, and fruit!
Monday: Grilled Pork Chops, Mac and Cheese, Green Beans, Corn, and maybe Mashed Potatoes for Kendall!
Tuesday: Smoked Sausage, red potatoes, onions, cabbage!
Wednesday: Lasagna Roll ups
Thursday: Swim Lessons: We usually just pick something quick like Mcalisters:)
Friday/Saturday: Not gonna lie by the time Friday gets here I am usually done cooking...I know that's horrible, but my job wears me out...I never plan anything those nights, but sometimes we just eat whats around:)
Here's to a great week of sticking to our menu:)