First, I have to mention that I recently started reading a sweet little blog called
Finding Hope
and she is so cute and so is her sweet little girl Emily! Well, I entered her Erin Condren giveaway and guess who won??? Yep, that would be this girl...and what's so funny is that I bought a 25 for 50 dollar on a flash deal site yesterday morning and then found out I won!! That's OK cause I literally want the whole store...my top two things right now are an iphone cover and a big desk calendar for my classroom for next year...I have one here at home and LOVE it!
OK moving on...so this same sweet blogger is now hosting a Monday Meal Planner here: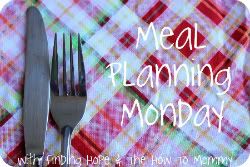 And I literally just bought this at Staples this afternoon! It's from the Martha Stewart Line and I LOVE it...We hung it on the fridge for our meals each week...Chris and I are both watching our weight and exercising (I am 3 POUNDS from my goal weight!) So, we are really mindful of what we eat for supper each night. I have been planning our meals out each week so I thought I would play along with Meal Planning Monday! (I don't have a white board eraser so I have to bring one home from work tomorrow!)
So, here is my Meals for this week:)
Fried Chicken Finger Salads (This is one of our favorites!)
Monday
Marinated Pork Chops, Bob Evans Mashed Potatoes, green beans, and corn
Tuesday
Smoked Sausage, Potatoes, and onions (this is a WW recipe!), green beans
Wednesday
Pasta (Probably just spaghetti this week)
Thursday
Chicken, baked potatoes, buttered noodles,green beans, corn
Friday
Tuna Casserole, green beans, and corn
Saturday
Out to eat!
We have green beans and corn ALL the time....my husband doesn't eat many vegetables so you will notice that I make them with just about EVERY single meal:) I don't mind really because I like them too and sometimes I make myself a little extra something that I like that he won't eat....so there is our pretty boring meal plans for this week!
We usually eat out one weekend night or both just keepin it real here! But, it just depends on whats going on. I really try not to do a lot of eating out during the week.
I have to share that I made these:
And seriously they are more like candy than granola! I LOVE them and will definitely make them again!
Enjoy and I hope to find some new and good recipes through this link up!